Another popular product from Apple is iPad. It is the most famous tablet in the world for it's portable and slim design. All iPad 1/2/3/4/mini/Air/Pro support fingerprint and scratch-resistant glass. However, unexpected external force always damage the touch screen digitizer and other iPad Parts. 80% problem of iPad come from the digitizer and home button. With the wither of tablet, it is more difficult to find good quality iPad parts for replacement.
Luckily, as a professional supplier of iPad parts, we always have stocked plenty touch screen with home button assembly for iPad, giving an emergency rescue for the disabled iPad. We also feature a variety of other iPad spare parts, such as back housing, LCD,ipad touchscreen/ipad touch screen,ipad digitizer, flat flex cable, battery. All these parts are top quality and 100% tested.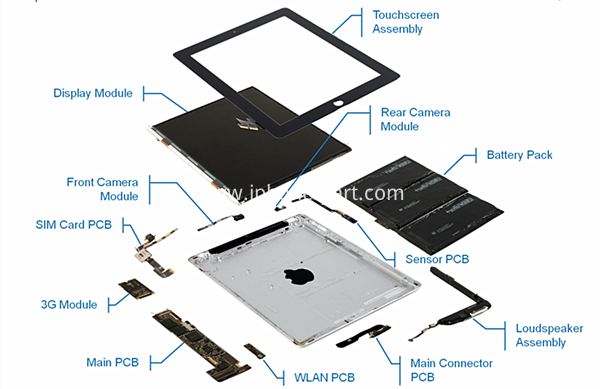 iPad Pro Parts are brand new. As the latest iPad version, it is most powerful in function. But it is almost impossible to collect all iPad pro parts from market now. So if take care of the precious iPad Pro tablet, if it is crashed, you may need to wait for several month for some parts replacement. It is lucky, the Touch screen of iPad Pro are always in stock.
are almost same as iPad 3/4 parts. There are not big difference between those 2 models, not only in function, but also in size and shape. So most parts inside them are compatible with each other. IPad 3 digitizer is totally same as iPad 4 digitizer. But there are some incompatible parts, such as the home button flex, battery...